The McMichael Canadian Art Foundation is a registered charity established in 1995 ​to raise funds and to invest endowment capital ​to support the McMichael Canadian Art Collection.
​The Foundation works collaboratively with the Board of Trustees in setting and achieving fundraising goals to ensure that the McMichael thrives as the only Gallery devoted to The Art of Canada*. The Foundation executes its mandate​ through regular meetings and is currently supported by three standing committees: Governance and Nominating, Investment, and Development.
Doug McDonald
Chair, Foundation Board
Doug McDonald is a Partner in the Toronto office of Deloitte LLP. and a leader of the firm's Merger & Acquisition business. Doug has held senior positions in Canada and the United Kingdom during his career with major investment banking and professional services firms including Credit Suisse, Ernst and Young, and CIBC. Doug graduated from the University of Western Ontario with an MBA in 1982 and received his Masters degree in Medical Physiology from the University of Manitoba in 1979.
Doug has a long standing interest in the arts and in particular, the work of Canadian contemporary artists. He is actively involved in the community and has held Board positions with leading arts organizations and business associations.
Laura Barclay, CPA CA, CFA
As Vice President & Senior Portfolio Manager, Laura provides discretionary investment management to high net worth individuals, families, corporations, trusts, and charitable foundations. She has over 20 years of investment management experience. She holds TD Bank's award of Distinction Vision in Action award.
Active in her professional and personal communities, Laura has earned two professional designations: Chartered Accountant (CPA, CA) and Chartered Financial Analyst (CFA). Laura spent several years serving on the Board of Directors for BALANCE for Blind Adults as well as the Estate Planning Counsel of Toronto (EPCT) Executive Board.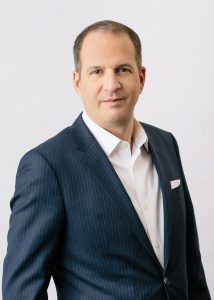 Jordan Beallor
Jordan Beallor is a Chartered Accountant and Managing Director at Thorek/Scott and Partners, a boutique executive search firm focusing on finding current and future leaders for clients across industry sectors with an emphasis on the Financial Services sector.  Prior to joining Thorek/Scott in 2007, Jordan Beallor spent more than a decade providing assurance and risk consulting services with Arthur Andersen's Financial Services practice, working closely with senior executives and boards.  Jordan leverages his technical background, industry knowledge and client service expertise to provide value-added recruitment solutions to his clients.
Jordan received an Honours Bachelor's degree in chartered accountancy studies and a degree in economics from the University of Waterloo.  He is currently the Deputy Chair of the Membership (Appeals) Committee of the Chartered Professional Accountants of Ontario and is a Director of the Financial Executives International (FEI), Toronto Chapter Board.
Jordan is an art enthusiast, an avid rock climber, scuba diver, and adventure traveler having explored close to 40 countries.
Rachel L. Blumenfeld
Rachel Blumenfeld is a Partner at Aird & Berlis LLP where her portfolio includes a focus on trusts and estates, tax law, charities and not-for-profit law. Rachel has significant experience in the not-for-profit sector, including, reviews of planned giving programs, assisting donors with tax-related matters, charities with the administration of bequests, interpreting new legislation, and has developed numerous privacy compliance programs.
She is committed to her community and is involved with several organizations including the Society of Trust and Estate Practitioners (STEP), the Canadian Association of Gift Planners (CAGP) and the Toronto Partnership Minyan. She has Co-Chaired the STEP Canada National Conference from 2012 – 2014 and is the Chair of the 2015 Conference. She is also a recipient of the Ontario Bar Association-Trust & Estate Section 2012 Hoffstein Book Award for leadership in the Trust and Estate Bar. 
Rudy Bianchi
Rudy Bianchi is a founding partner of Bianchi Presta LLP and has been providing corporate services to clients since his call to the Bar as a member of the Law Society of Upper Canada in 1985.
Rudy obtained his Bachelor of Business Administration from York University, Schulich, in 1980 and received his Doctor of Jurisprudence degree from the University of Windsor in 1984.
When not in the office, Rudy is an avid golfer, skier, and is a member of the National Golf Club of Canada, the Lora Bay Golf & Country Club, the Craigleith Ski Club, and the Vasari Golf and Country Club.
Chris Bredt
Chris Bredt is a senior litigation partner practising in the Toronto office of Borden Ladner Gervais LLP. Chris practises civil litigation, with an emphasis on commercial disputes, corporate governance and other corporate disputes, class actions, constitutional, Indigenous, and administrative law issues. He is the Chair of BLG's National Public Law Group, and was selected by peers for inclusion in The Best Lawyers in Canada and recognized in Lexpert®/American Lawyer Guide to the Leading 500 Lawyers in Canada. He has appeared as counsel before all levels of the courts in Ontario, and before the Federal Court of Appeal, British Columbia Court of Appeal, and on numerous cases before the Supreme Court of Canada.
Chris has a B.A. and LL.B. from the University of Western Ontario, an LL.M. from Yale, and a D.S.U. (Droit Administratif) from the Université de Paris II.  Chris joined BLG in 1984, and became a partner 1988; he was seconded to the Government of Ontario from 1989-93, where he served as Assistant Deputy Minister, Office of Federal Provincial Relations and as Assistant Deputy Minister, Constitutional Policy and Special Counsel. Prior to joining BLG, Chris was law clerk to Mr. Justice McIntyre of the Supreme Court of Canada from 1979-80, and was a stagiaire with the Conseil d'État (Council of State) in Paris, France, in 1983. Since 2008, Chris has served as an elected Bencher of the Law Society of Upper Canada, where he Chairs the Audit and Finance Committee and is Vice-Chair of the Law Society Tribunal. He has served as a member of the Ontario Judicial Council since 2016.
Mark Bursey, ICD.D
Mark Bursey is a partner in the Halifax office of Stewart McKelvey, one of the 16 largest law firms in Canada with more than 220 lawyers. Mark's law practice is primarily focused on corporate reorganization and acquisitions with an emphasis on corporate income tax. Mark is currently the Past Chair of the Board of Governors of the Art Gallery of Nova Scotia and is a former Board Chair of one of Canada's oldest independent schools. Mark is a member of The Institute of Corporate Directors (ICD) and has completed the Directors Education Program. Newfoundland-born, Mark resides in Halifax with his wife, Jane, and two teenage children.
Doris Chan, CFA
As Vice President, Senior Portfolio Manager, Doris provides investment management solutions and services to private clients, corporations, charities and trusts. She has 25 years of investment management experience, initially beginning her career on Wall Street in New York, then moving back to Canada in the early '90s and joining Canada Trust. Doris is a CFA charter holder and a member of the CFA Institute and the Toronto CFA Society.
In her volunteer work, she is a member of the Board of Directors for the TD Waterhouse Private Giving Foundation. She is a Mentor with TRIEC (Toronto Region Immigrant Employment Council) and a past member of the Selection Committee for the YWCA Women of Distinction Awards.
Doris is a member of the SickKids Chinese Cabinet, which focuses on gift-planning and identifying best practices, people and methods to engage and fundraise within the Asian community.
Robert Dunigan
Robert is responsible for the overall Finance Operations for 108 Four Seasons Hotels and Resorts worldwide, stretching across 47 countries. Areas in Robert's scope include Accounting, Financial Planning and Analysis, Shared Services and Outsourcing, Operational Financial Reporting, Insurance and Risk Management, as well as Property Strategic Planning. He has been with Four Seasons for many years in a variety of property and corporate roles across a wide range of geographies.
Robert's earlier experience includes work with Ian Schrager Hotels in New York and with Omni Hotels, both in hotel and corporate positions.
Robert is a member of the Executive Committee of the University of New Hampshire Hospitality Advisory Board, and does volunteer work for the MS Society of Canada.
Andrew Dunn
Andrew W. Dunn is the Founder and Managing Partner of Canadian Shield Capital, a private equity investment and advisory firm focused on building great Canadian businesses with strong management teams.
Andrew began his career at Deloitte, where he spent 27 years, ultimately serving as Vice Chair of Deloitte Canada and Chair of its Client Cabinet, responsible for the firm's largest client and government relationships. He played numerous roles on the firm's Canadian and global executive teams, including Managing Partner of Tax in Canada. Andrew co-authored The Future of Productivity, research aimed at improving business productivity. Andrew has delivered expert testimony before the House of Commons Standing Committee on Finance and the Senate Standing Committee on Banking, Trade and Commerce. His love for business and entrepreneurial spirit lead him to co-found Altas Partners in 2012, serving initially as Chief Operating Officer and Co-Managing Partner.
Andrew serves on the boards of the Children's Aid Foundation, the Upper Canada College Foundation, and a number of public and private companies, including Hatch, Canada's largest private engineering company.   He is a Chartered Accountant (FCPA, FCA) and holds a Bachelor of Arts and a Masters of Accounting from the University of Waterloo. Andrew and his wife, Christine, live in Toronto with their two sons, Charlie and Liam.
Bonnie Hurvitz 
Bonnie Hurvitz is the owner of B.R. Interiors, an interior design company specializing in residential homes.
Bonnie is currently a board member of Best Buddies Canada.
At present, Bonnie is chairing Mind Matters, an event to raise funds to build a classroom for the Fresh Start Program for Sunnybrook Hospital Brain Sciences Centre.
Bonnie was a former director of Sunnybrook Foundation. Bonnie also sat on both the Donor Relations Committee and the Common Marketing & Communications Committee for Sunnybrook.
Bonnie is an art enthusiast who is particularly interested in contemporary Canadian art.
Norma Kraay
Norma Kraay is a Senior Partner at Deloitte LLP and leads a portfolio of Deloitte's most strategic clients, to develop long-term relationships and lead valuable projects that help clients meet their strategic objectives. In addition, she is the lead tax partner on several accounts, has led multimillion dollar M&A deals, and resolved high-profile cross-border tax disputes. She has built a growing and profitable National Transfer Pricing practice and is deeply involved in Deloitte's global investment management and private equity practices. She is passionate about building teams to lead complex business solutions that deliver exceptional results.  In addition to her work as an advisor, Norma has direct C-Suite experience as the former CHRO at Deloitte Canada and Chile. In this executive role reporting to the CEO, she oversaw a successful large-scale transformation of the HR function, managing a substantial budget and a team of more than 250 people, located in three countries.
Norma received her BBA from ITAM, one of Mexico's top universities. She has an MPA from the Harvard Kennedy School, is an International Tax Program graduate from Harvard Law School and has an Advanced HR Certificate from the Michigan Ross School of Business.
Norma has previously served as a Director of the Importers & Exporters Association, was a member of the corporate committee for the AGO, and a member of the audit committee for the Loran Scholars Foundation. Norma lives in Toronto with her husband of 22 years, and a son and daughter in their teens. She speaks fluent English and Spanish and conversational French.
Paul Manias
Paul is the Managing Director for OMERS Platform investments, responsible for energy and special situations (PointNorth Capital). He held senior roles previously with Borealis Infrastructure and Torys LLP. Paul has extensive experience in the field of corporate governance and has advised business ventures of all sizes on governance matters. He currently servies on the board of a number of our portfolio companies, including as Chair of Gain Energy Ltd., a private oil & gas company located in Calgary. The McMichael has been a part of his life since his early childhood. He grew up in Woodbridge (Vaughan) and had many visits to the McMichael over the years—both the gallery itself as well as the grounds where he often rode the trails by bicycle with his Kleinburg friends.
Michèle D. McCarthy
As a lawyer running her own practice, McCarthy Law, since 2003, Michèle delivers services to mid-sized hedge funds, mutual funds, reporting issuers and Schedule II and III banks. She has led projects within the bank regulatory area, growing her portfolio in Canadian and US regulatory, compliance and corporate governance matters. Michèle has served as Chair of the Toronto Port Authority, member of the Small Business Advisory Committee of the Ontario Securities Commission, and is Director on the Board of Lago Dourado Minerals and several closed-end funds and independent review committees.
Through her interest in serving the community, Michele serves or has served on the boards of the Canada's National Ballet School, the St. George's Society, the Rekai Centres, the University of Trinity College (University of Toronto) and the Humber Memorial Hospital.
Jane Milanetti
Bio coming soon.
Laura Mirabella
Laura Mirabella, FCPA, FCA, is the Commissioner of Finance and Regional Treasurer for the Regional Municipality of York.  She was previously the Chief Financial Officer and City Treasurer for the City of Vaughan, spent 11 years in progressively senior positions with the Ontario Public Service, and another 10 years in the private sector providing professional services to organizations in a variety of industries.
Laura's 25 year career has covered organizational and program governance, integrated performance measurement and reporting, strategic and fiscal planning, and program and risk management.  She has a passion for public service, for making sure that strategic and fiscal planning issues are considered together by governments, and that financial information is communicated to decision-makers and the public in ways that can be easily understood and contributes to democratic discourse.
Patrick Pelliccione
Patrick Pelliccione is a key player in shaping Canada's food landscape with a persevering career spanning over three decades.
A graduate of the Richard Ivey School of Business at the University of Western Ontario, Patrick is now the president of Jan K Overweel Ltd., a dynamic, vertically integrated company that manages production and distribution of foods from all over the world and supplying them to food retailers and food service establishments.
Patrick is an engaged member of his industry and community, where he heads up the International Cheese Council of Canada and is the Co-President of the Italian Chamber of Commerce of Ontario, respectively. He is also on the boards of various charities including the Humber River Hospital Foundation. In his spare time, Patrick is an avid reader, golfer and traveler. He lives in Vaughan, Ontario with his loving wife and two sons.
Carl Spiess
Carl Spiess is a Portfolio Manager and Director at ScotiaMcLeod. He graduated from Systems Design Engineering at the University of Waterloo and earned an MBA from Wilfrid Laurier. He has over 25 years of investment management experience. For corporate clients he oversees numerous Group Retirement Savings Plans and continues to help select Canadian families save and invest for a comfortable retirement. He greatly enjoys setting up personal charitable foundations for his clients to help preserve their legacies.
Carl was featured in Scotiabank's 2002 annual report for his charity work protecting Georgian Bay. He ran and continues to support the Georgian Bay Land Trust annual art auctions. Carl has been a long-time supporter and fundraiser for the Toronto United Way. Within ScotiaMcLeod he co-chairs the "Share the Wealth" employee giving program. Carl married his wife Jennifer at the McMichael gallery on a warm summer day in 1994. In his spare time Carl is an art collector, rock climber, hiker, snowboarder and obsessive windsurfer.