ArtVenture Online
There are lots of ways to stay connected with the McMichael collection, educators and artists through art activities, videos, tutorials and more from home! Check back regularly for new posts.
This project video, inspired by artist Christi Belcourt's floral paintings, will teach aspiring artists of all ages and abilities to create an unforgettable gift for a loved one this Valentine's Day.
This Halloween, look up and experience the stars, moon and magic of the night sky in a whole new way! In 2020, we have the rare opportunity to enjoy this spooky season under a blue moon, the second full moon in less than one month.
Contemporary Canadian artist Steve Driscoll was inspired by the northern lights to create his large-scale painting Like a daydream, or a fever (2016).
Using pigmented urethane to create his landscapes, the artist created an effect that is almost magical when the urethane dries into clear layers. Follow Driscoll's lead and use this rare lunar phenomenon as your inspiration to create a little magic of your own!
Today, we are going to create a painting depicting the Halloween night sky.
Exploration Questions: 
How is the element of space used in the painting? Do you see more of the sky or the land?
What is different about the night sky in this painting? Have you ever seen the northern lights?
How did the artist recreate the feeling of the northern lights swirling and moving up the canvas?
Activity description:
Layer oil pastels (or wax crayons) and watercolour paint to create a magical nocturnal landscape painting. Use your view of the evening sky or your imagination to create a moonlit masterpiece that captures the essence of Halloween night.
Sometimes art can be magical. Some materials, like oil and water, can even work together in a way that seems otherworldly. In this activity, we will explore what happens when we experiment with materials that don't really get along.
Before we begin, envision the time of day that you would like to paint and reflect on the colours, objects and texture that you'd like to include in your landscape. Steve Driscoll paints his picture from a "worm's-eye view" while looking up towards a big sky. Choose a viewpoint that you prefer, then begin sketching a landscape using a wax or oil-based material. Both wax and oil will resist your watercolour, so be sure to leave some areas of your surface uncovered. Start with the lightest colours and then build the darker colours on top. Experiment with layers of thin watercolour paint on top of your wax/oil and watch the magic happen!
There are several notable artworks in the McMichael's permanent collection that showcase the fascination many great artists have had with the starry night sky and nocturnal landscapes.
From Tom Thomson's evening vistas of Algonquin Park, to Frederick Varley's paintings of the Vancouver skyline at night, the Group of Seven and their contemporaries frequently explored the effects of moonlight on colours and shadows. Inuit artists often depicted the evening sky through a spiritual lens, populating the darkness with the spirits from the folklore of their culture.
---
Activity description:
Watch this tutorial or download the step-by-step instructions:
Once in a Blue Moon
This year, Halloween night will take on a particularly festive atmosphere with the appearance of a Blue Moon, the second full moon in the period of a month. This unique phenomenon, combined with the beautiful colours of fleeting autumn, will serve as the perfect backdrop to an inspired evening of stargazing.
In these workshops, we invite young artists to challenge themselves to create a nocturnal scene focusing on the features of a landscape at night. Participants are encouraged to draw inspiration from the spooky spirit of Halloween by including creatures they feel may be lurking close by in the shadows… 
Kid's Corner
5 – 7 years old
Visit this page every week for fun step-by-step art activities and ideas for the whole family! Each post will contain an activity connected to one of the McMichael's artworks, accompanied by guided viewing questions. A list of materials and potential substitutes is provided.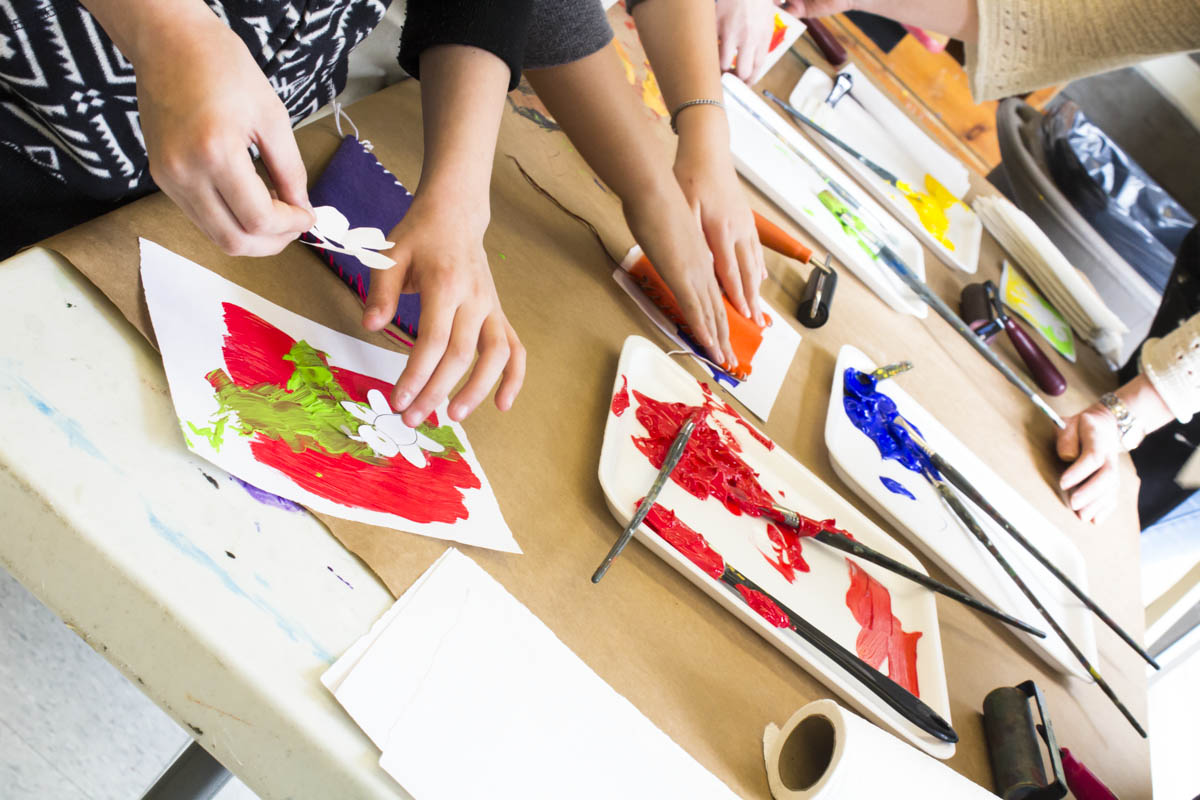 Gallery Explorers
8 – 12 years old
Gallery Explorers introduces kids to the history of Canadian art and encourages personal artmaking at home. With new projects added each week, learn the story of well-known Canadian masterpieces as well as some lesser-known surprises by the Group of Seven, Tom Thomson, Norval Morrisseau and other Canadian artists from the past to the present. Each discussion is accompanied by an art activity related to the artist or artwork.
Living with Art Accessible Programming
Age 7+
The McMichael Canadian Art Collection has always been a leader in accessible programming. To support families during our closure, the McMichael is pleased to offer a series of activities that can be enjoyed by families of children living with exceptionalities. Each activity includes step–by–step instructions that take into account various levels of ability, differing sensitivities and materials available at home.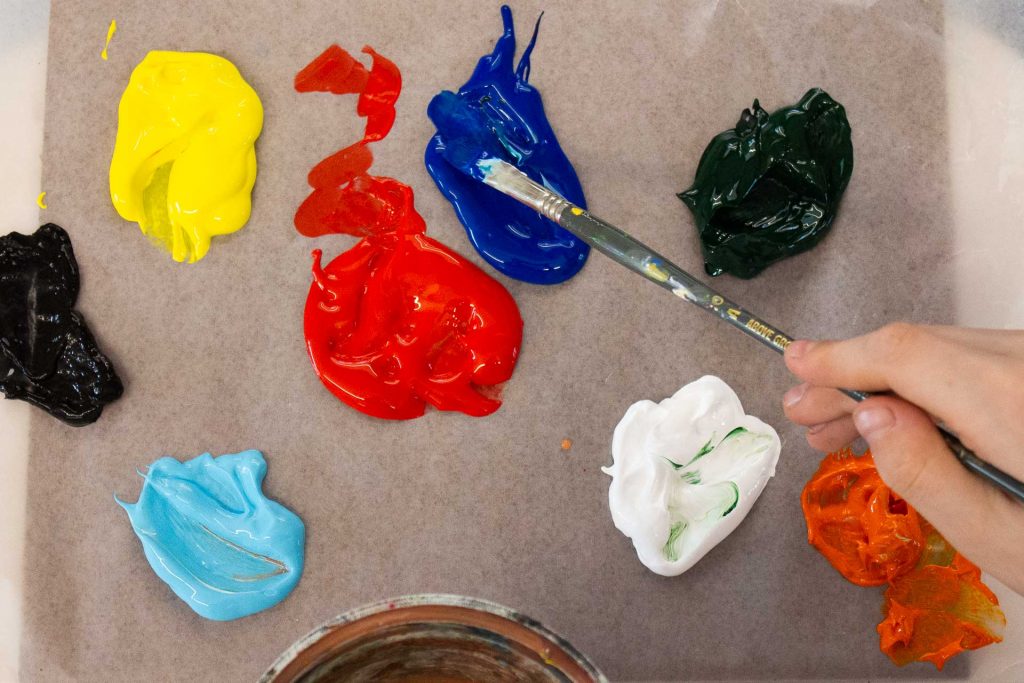 Create a fuzzy flower to decorate your personal space with, or as a gift to someone special. These flowers will be sure to brighten anyone's day!  
Allow your imagination to run wild as you create a beautiful artwork scratched into a colourful underdrawing. The possibilities are endless!  
Create a multi-media painting inspired by the textures and patterns of leaves. We'll challenge you to create a memorable representation of leaves before they disappeared for the winter!      
Young at Art Picture Gallery
Love what you made? Post your work on social media and use the hashtag #McMichaelFromHome for a chance to have your work featured here!
McMichael Gallery's Art Venture Online providing excellent resources for parents to explore nature (from the backyard or balcony) and their child's creative sensibilities! Definitely check out their step by step lessons! #McMichaelFromHome pic.twitter.com/JiPHd6A5ea

— Kathryn Martin (@kmart125) March 25, 2020
Header image credit, clockwise from top left: Edwin Holgate, The Head, 1938, Gift of Edwin and Frances Holgate, 1976; F.H. Varley, Early Morning, Sphinx Mountain, c. 1928, Purchase 1972; A.Y. Jackson, Lake Superior Country (detail), 1924, Gift of Mr. S. Walter Stewart; Frank Johnston, Algoma (detail), 1918, Gift of Mr. and Mrs. John A. Jackson; Arthur Lismer, From My Window, Montreal, 1940–1949, Purchase 1986; Franklin Carmichael, October Gold, 1922, Gift of the Founders, Robert and Signe McMichael; Edwin Holgate, Portrait of Frances, c. 1935, Purchase 1982; J.E.H. MacDonald, Woodland Brook, Algoma (detail), 1918, Gift of the Founders, Robert and Signe McMichael; A.Y. Jackson, Indian Home, Port Essington, B.C., 1926, Gift of Mr. S. Walter Stewart; J.E.H. MacDonald, Moose Lake, Algoma (detail), 1920, Gift of Mr. R.A. Laidlaw; J.E.H. MacDonald, Beaver Dam and Birches (detail), c. 1919, Gift of the Founders, Robert and Signe McMichael; A.J. Casson, October, North Shore (detail), 1929, Purchase 1985. All works McMichael Canadian Art Collection.