BOOKING INFORMATION
There are many educational experiences at the McMichael to choose from! Select from a range of on-site programs including Gallery and Outdoor Tours, or Art-in-Action Workshops. Invite a McMichael Educator into the classroom with Art2Go, or virtually through our new McMichael Virtual Classroom program, which offers virtual guided art viewing and studio programs.
This fall, in-gallery programs are available exclusively for school groups Tuesdays and Wednesdays from 10 am to 4 pm.
Outdoor Tours, Learning from the Land Art-in-Action, Virtual and Art2Go programs are available Monday to Friday from 9 am to 4 pm.
When you book, please be prepared to provide the following information:
The program(s) you are interested in booking

The grade level(s) and total number of students who will participate

Your anticipated arrival and departure times if booking an on-site program

Your preferred dates
We encourage you to start the booking process using the Online Inquiry Form below. Once completed, our staff will follow up within two business days.
Please book as early as possible to secure your spot and communicate any special programming requests at the time of booking.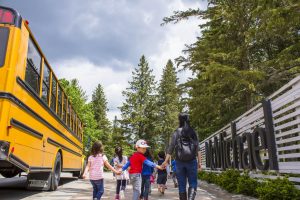 ---
THE McMICHAEL's COVID-19 RELATED POLICIES
We've implemented a number of new safety policies and procedures to help keep students, teachers and our staff safe. We encourage you to read about what we're doing to keep the Gallery and safe and clean space: Gallery Guidelines
In addition to our general policies, the Creative Learning department has developed some additional guidelines specific to the school group environment that reflect current school board policies to help keep students safe and comfortable. To read more about the Creative Learning department's policies related to COVID-19, please download: Student Guidelines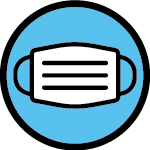 Please remember that a face covering is mandatory for students of Grade 4 and up, and strongly encouraged for students in JK to Grade 3,  for all indoor programming.
INQUIRE BY PHONE

Monday to Friday
8 am to 4 pm
905.893.1121 ext. 2209  |  1.888.213.1121 
Program details are subject to change.
---
Program Delivery Logistics
ON-SITE PROGRAMS
The minimum booking requirement for school groups is at least 10 students.
Upon arrival, visiting classes will be divided into groups no larger than 10 students. Due to restrictions on the number of participants in accordance with York Region health authorities, a limited number of chaperones are permitted during on-site programs. Each group will be allowed a specific number of chaperons according to the following guidelines:
JK TO GRADE 3: One adult supervisor per five students. (1:5)
GRADES 4 TO 12: One adult supervisor per 15 students. (1:15)
The required number of adult supervisors will accompany students in the gallery spaces and outdoors and will receive complimentary admission. Teachers and adult supervisors are required to stay with their groups for the duration of their booking, including during the optional lunch period.
During on-site visits, school groups are not permitted to visit the gallery spaces unless accompanied by a McMichael staff member. Staff are unable to supervise groups beyond the length of the booked program(s).
Outdoor programs will take place weather permitting. We kindly request that teachers and parents/guardians ensure that students are dressed appropriately for the conditions.
In case of inclement weather:
Outdoor programs that are booked on Tuesdays and Wednesdays will take place indoors.
Outdoor programs booked on any other day will be delivered within a covered shelter

.
---
Art2Go IN-SCHOOL PROGRAMS
The minimum group size for an Art2Go In-School program is 15 students.
Teachers are required to stay with the group for the duration of the program and assist the McMichael educator upon arrival at school. Upon booking an Art2Go program, a requirements form will be provided electronically.
---
VIRTUAL CLASSROOM PROGRAMS
The minimum group size for a Virtual Classroom program is 15 students.
Teachers will be able to use their preferred digital platform for the program delivery. If required, the McMichael will provide use of a professional Zoom account. Teachers will be responsible for the management of their students and are required to be present for the duration of the program.
---
LUNCH
A 30-minute lunch space can be requested when booking on-site programming of two or more hours. Please mention this request during the booking process, as space is limited.
The McMichael does not provide food service to school groups. The McMichael Café and the Gallery Shop will be closed on the school program days. 
---
I ♥ McMICHAEL VIRTUAL MINI TOUR
While we are not currently offering the I ♥ McMichael Mini Tour on-site, we encourage teachers to share a virtual version of this tour prior to any booked programs. The video, which introduces students to the history of the McMichael Canadian Art Collection, will be provided via a link by email upon booking.
---
PROGRAM FEES
Pricing of all on-site programs is based on a rate of $6 per hour of programming per student.
Pricing of all Virtual Classroom programs is based on a rate of $4 per hour of programming per student.
Pricing of all Art2Go programs is $12 per student.
Please refer to individual programs for specific costs.
To learn about special packages and promotional pricing, sign up for the McMichael's Ed Flash e-newsletter at mcmichael.com/learning or by emailing learning@mcmichael.com.
---
ACCESSIBLE PROGRAMS
Programs at the McMichael are accessible to all learners. The McMichael's Education Team will work with you to modify tours and studios to address your students' unique needs.
---
PROGRAMS IN FRENCH
All programs are also available in French. Please request at the time of booking.
PROGRAMMES EN FRANÇAIS
Tous les programmes sont offerts en français. Veuillez le préciser au moment des réservations.
---
PAYMENT
A deposit of 50% of the total contracted fee is due at the time of booking. The balance is due on the day of your visit. The McMichael accepts VISA, MasterCard, American Express, cash, debit, or cheques (payable to McMichael Canadian Art Collection). Groups booking programs with fewer than the minimum number of students will be charged for the minimum amount.
---
CANCELLATIONS AND PROGRAM MODIFICATIONS
Any cancellations or program modifications must be received in writing 30 days prior to the scheduled programming.
Cancellations made within 30 days of the scheduled programming will be charged 50% of the contracted rate. Rescheduling within 30 days of your scheduled programming will result in a 10% administration fee of the total cost of the booking.
Any change in the number of participating students must be received in writing 30 days prior to the scheduled programming. Changes made within 30 days of the scheduled programming can be altered by up to 10% of the original number booked. For example: if you have booked for 50 students but only 25 students attend, you will be charged for 45 students (50 students less 10%).
---
THANK YOU TO OUR SPONSORS AND PARTNERS!