Kinderflute – Luna's Magic Flute
---
Saturday, September 28
---
2 to 3 pm
Admission
This is a free event. Admission to the gallery will be free all day as we celebrate Vaughan Culture Days. An RSVP is required to attend this event.
About the event
Join innovative music teacher Stéphanie Superle for an introductory Kinderflute program. Accompanied by a pianist, she will be sharing the story and music of Luna's Magic flute. Adapting the tale into a musical story, Stephanie brings Luna to life with lovely illustrations and storytelling.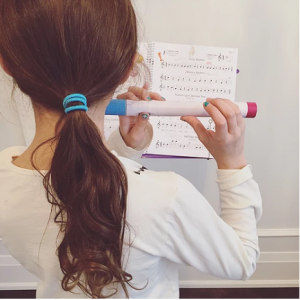 About Kinderflute
The Kinderflute method, designed for children aged four to eight, incorporates a wide range of games, breathing exercises, listening, movement, and other fun group activities.  Kids have so much fun, they don't even realize they're learning! Students learn the basic elements of music like rhythm, note reading, and good tone. They develop skills in team work, communication, dedication, social interaction, and so much more through the group class environment.
About Stéphanie Superle
A performer and teacher in the Greater Toronto Area, Stéphanie Superle is envisioning a new educational model for young musicians across Canada. One of only two Kinderflute-certified teachers in the country, Stéphanie is the founder and lead educator of Kinderflute Canada, an organization dedicated to the development of imaginative, creative, and inspiring young musicians eager to explore the flute and other wind instruments.
(Program and biography courtesy of the artist)