Tuesday evenings
August 7-28, 2018
6 to 9 pm
Instruction will be offered to artists working to refine their offerings in the subject of their choice—landscape, still life, figurative/portraiture, wildlife/pets—and in their individual style, be it realism or varying degrees of abstraction. Demonstrations will be done in watercolour, water-mixable oils, and acrylic; offering solutions in areas artists need help in. Sample topics covered include: mastering perspective, reflections in water, patterns, texture, skies and clouds, dramatic light, depth, using negative space, and more. Special attention will be given to basic drawing techniques, composition, colour, texture, transparency, use of materials and effective brushstrokes. Whether you are an absolute beginner or you are an experienced painter wishing to take your paintings up to another level; Andrew Sookrah will guide you through the exercises you need to master in order to freely express your artistic self.
"Andrew Sookrah is an unusual and fantastic teacher, it makes for a friendly atmosphere in the class"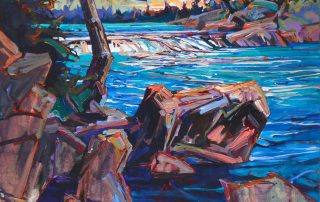 Andrew Sookrah uses a combination of painting demonstrations and individual guidance to create a fun, supportive and collaborative atmosphere in the McMichael's studio. Andrew Sookrah is a professional artist and an elected member of the Canadian Society of Painters in Watercolour, the Society of Canadian Artists, The Ontario Society of Artists, and the Portrait Society of Canada.
Please note that materials are not included.
Click on the links below to view and download a list of suggested materials for this class in your preferred medium.
Water-mixable oils and acrylic
*Tickets are non-refundable.*