FAQ – Participating Artists only
Autumn Art Sale
Congratulations! The Selection Committee has accepted your works for exhibition in the McMichael Volunteer Committee's 2019 Annual Autumn Art Sale Fundraiser.
This year we received submissions from over 220 artists covering a wide range of subjects, media and styles.  Due to display limitations, we had the very difficult task of accepting only 38 artists/ sculptors to participate in this year's sale along with the returning 2018 Top 11 Artists.
Opening Night Gala
Friday, October 18, 6 – 10 pm
Complimentary Hors d'Oeuvres, Free Parking and Admission, Cash Bar.
Sale continues all weekend long
Saturday & Sunday, October 19 & 20, 10 am – 5 pm
Parking $7, Free admission to Autumn Art Sale, Regular Admission Rates for the Collection.
Key Dates
Date
Time
Description

August 18

 

Delivery timeslot preference


(email to: artsale2019@mcmichaelvolunteers.com)

September 15

 

$200 Acceptance/Booth fee due (click here for payment link)

October 1

 

Last day to submit your list of works that you will have available for sale


(email to: artsale2019@mcmichaelvolunteers.com)

October 17

10 am to 4 pm

Artwork Delivery and Setup

October 18

10 am to 5 pm

Friday day sales – artists' attendance not required

October 18

6 pm to 10 pm

Opening Night Gala

October 19

10 pm to 5 pm

Art Sale Fundraiser

October 20

10 am to 5 pm

Art Sale Fundraiser

October 20

5 pm to 6 pm

Artwork Removal and Group Photograph

 

 

 
Q: How and when do we submit our lists of works?
Please use the Excel spreadsheet (if possible) or the PDF form to submit an electronic version of the information for works you intend to bring to the sale. This information includes the Title, Media, Height dimension, Width dimension, (and Depth, for sculptors only) and Orientation (landscape or portrait). This information is used for both our cash register system and to produce works labels, so please include information on ALL the works you might bring to the sale not just the works you intend to initially hang.
If possible, avoid the title "Untitled". There is a minimum price of $100 for works.
If you don't have Microsoft Excel on your computer, don't worry. Just about ANY program will work – even a regular email message. Excel simply makes it easy to keep things in columns. If you use a word processing program – just insert one tab (and only one tab) between the columns of information. We'll be able to copy it and paste it into our cumulative list.
Click here for the Artworks Submission Forms.
Q: The Gala on Friday night – how fancy is it, and what should I wear?
A: We always put on a good evening, and this year will be no exception. We have complimentary hors d'oeuvres and a cash bar, and a wonderfully festive feel. Feel free to get as dressed up as you would like (it's not black tie, and you don't need to wear gowns, but that outfit in your closet that you keep for special occasions – this might be the time to dust it off).
Q: Can we bring people to the Gala Opening?
A: Absolutely – the more the merrier – especially if they come prepared to purchase works of art. We are expecting over 600 people that evening, and a large portion of our sales comes on this evening…
Q: Is there a charge for people to see the art sale?
A: There is no charge for visitors to view the works for sale in the Grand Hall. If they do wish to view the works in the gallery spaces, they will need to pay admission. The gallery itself is not open during the Friday night gala, but is throughout the weekend.
Q: What does it cost to park?
A: Parking is $7 for visitors (free for members). Artists park for free over the weekend – your name will be on a list with Security/Parking.  On the Friday night Gala, parking is free for everyone.
Q: Can my spouse/mature child/friend help over the weekend?
A: Absolutely. Let us know who you're thinking of bringing so we can print up a name tag.
Q: What do you mean by "size" on the works form submission – image size or framed size?
A: Give us the image size in inches (width x height for paintings and width x height x depth for sculptures), as it will be printed on the work label. Purchasers can mentally add in the framed dimension.
Q: Is it true we have to stand all weekend?
A: No, we are just severely limited with space constraints, so we have to be creative. You may bring a small stool, but anything larger will impinge on the display space of others, and act as an obstacle for the browsing public.  There will be an artist lounge for you to take intermittent breaks and have some refreshments provided by the McMichael Volunteer Committee.
Q: Is it true we are not allowed to bring portfolios to show our other works?
A: Again, we are just severely limited with space constraints, so we have to be creative. You may bring a SMALL portfolio that you can show to prospective purchasers to help show the depth and breadth of your work, especially if it helps make a sale. (Small, as there's no real place to hide it at your panel, and it can look like a dog's breakfast if we have portfolios, purses, bags, and coats laid at the base of your panel.)
Many artists are now bringing iPads or other tablet devices for this purpose – and it tends to work very well!
If a patron was interested in purchasing one of the works from your portfolio not on display in the sale, we would ask that you still honour the 65%/35% split, for up to 30 days post Autumn Art Sale.
Q:  How can I advertise that I will be selling my artwork at the 2018 Autumn Art Sale Fundraiser?
A: Please be sure that when you speak of the art sale that you are using the proper name "2018 Autumn Art Sale Fundraiser "created and run by the "McMichael Volunteer Committee (MVC)".  The MVC is very proud to be putting on this prestigious show for the 28th year and greatly appreciates your support and participation.
To facilitate advertising, the image below contains details of the AASF which we encourage you to post on your website, and social media accounts (Facebook, Twitter, Instagram etc.) to help us help you promote your work and the fundraiser.
You will be receiving a package containing 200 postcards by early August for distribution to friends, family, and your community and to have available at any shows you may be in prior to October 18, 2019.  We will also be providing you with a digital copy of the postcard to use as approved advertising.  Please note, this is a Volunteer event and you may NOT state that you are 'showing at the McMichael'.  But, instead, you may state that you are participating in a fundraiser for the gallery.
Q: Where exactly is Kleinburg?
A: The village of Kleinburg is located in the City of Vaughan, about 30 minutes north of Toronto. Click the link below to have Google Maps help you find us.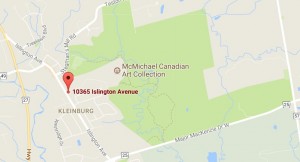 Q:  Are there restaurants nearby for us to eat?
A: The gallery has a restaurant that will be open during the sale on Saturday and Sunday.  There are also local restaurants, bakeries and cafes in Kleinburg that are quick and convenient to grab a bite.
Q: Excel – what's that? I don't have that on my computer, so how can I submit my works list to meet the October 1 deadline?
A: Just about ANY program will work – even a regular email message. Excel simply makes it easy to keep things in columns. If you use a word processing program – just insert one tab (and only one tab) between columns. We'll be able to copy it and paste it into our cumulative list. If you have any questions, let us know (sooner, rather than later).
Q: Is it true that there will be sales during the day on Friday?
A:  In the past, we have sold works during the day on Friday.  It has proved successful for us.  Artists are not expected to be at the gallery during the day on Friday.
The Autumn Art Sale is not formally open for business during the day on Friday, however should anyone be interested in purchasing your art, we will certainly not discourage it!  Should you like to be in attendance you are welcome to do so, otherwise a McMichael Volunteer will be available to accept any offers for purchase of your work that may occur on that day before the official opening.
Please check your panel upon arrival on Friday evening in case you have to replace any works sold Friday during the day.
Q: I see where you state that artwork must be "professionally framed and wired for hanging. What about "gallery stretched canvas"?
A: Works on gallery stretched canvas do not need to be framed, as long as they are properly finished on the sides. The essense of this requirement is that it is our hope that our patrons will be able to bring home their artwork and immediately hang it on the wall.
Q: Do artists have to provide their own lighting?
A: Each panel (6′ wide x 7′ tall) already has two lights – you will not need to bring your own.  Sculptors, however, will be required to provide their own lighting and display materials (pillars, stands, etc.).
Q: How are sculptures displayed?
A: Sculptors will have an opportunity to come to the gallery and discuss their display space.  We will be in contact with each sculptor to set up a meeting time in August.
Q: Where will the art be displayed?
The Autumn Art Sale takes place in the Grand Lobby of the McMichael. Artists are allotted a panel six feet wide by seven feet high. Sculptors are allotted an area approximately six feet by six feet. Six foot tables are available for sculptors (although you will need to bring table coverings and and any pedestal bases).
Q:  Can we display our business cards?
A: Yes.  We recommend that you put them in a magnetic holder that you can attach to the panel.
Q: What hanging system will we use?
The panels are made of steel. Steel cables are attached to panel top hooks (each artist will begin with four cables, which generally suffice for most panel arrangements – additional cables are available if required). Picture hooks are provided based on the weight of the works to be hung (available in 12 lbs / 5 kg, 15 lbs / 7 kg, and 33 lbs / 15 kg). Each panel has two lights affixed at top (no additional lighting can be accommodated).
Please Note:  The image above depicts the top of the panel.  Your wall is 6 ft wide by 7 ft high.  There are lights at 1.25 ft in from  the ends and 2.25 in from the ends going down 2″ from the top (two of the lights are on your side and two on the other side if you are on a two sided wall).  There is a metal joiner of 1 ft across the centre.  These are places that cannot accomodate the hanging wires.  Therefore, please take this into account when planning your layout.