Ian Dejardin to Retire as Executive Director of the McMichael Canadian Art Collection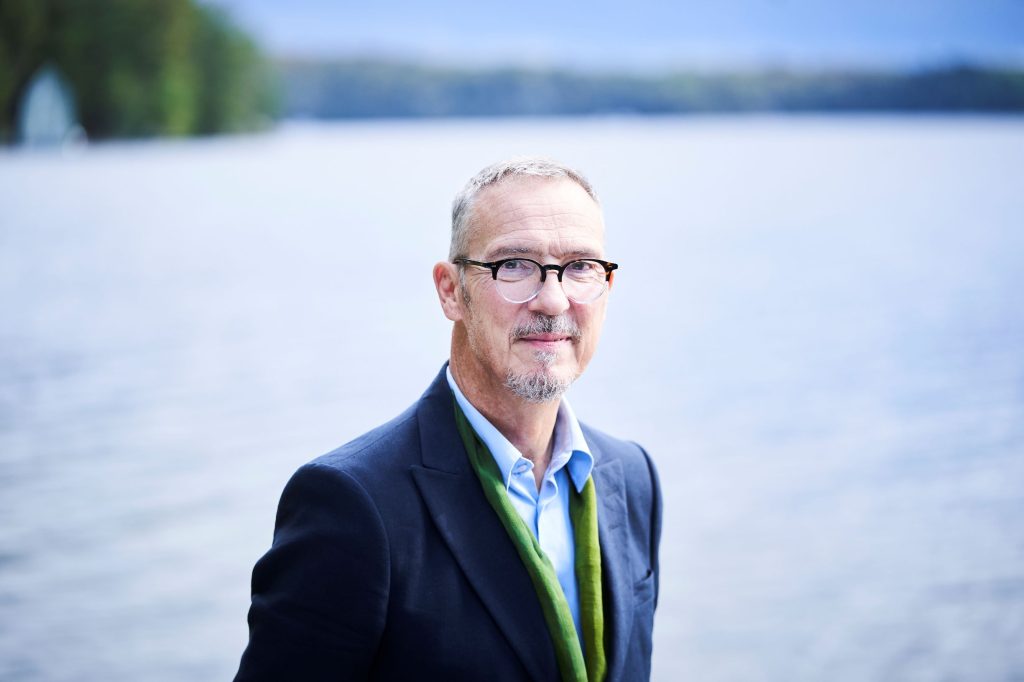 September 8, 2023, KLEINBURG, ON – Today the McMichael Canadian Art Collection announces the retirement of Executive Director Ian A. C. Dejardin, who will leave the position at the end of October 2023. "The McMichael has been incredibly fortunate to have had Ian at the helm for the last six-and-a- half years," said Andy Pringle, Chair of the Board of Trustees. "Ian is a gifted curator and museum leader who has brought decades of international experience to the McMichael and has done much to raise the profile of the museum. He has laid the groundwork for a future vision of the museum that will bring the art of Canada to the world, and on behalf of the Board and Foundation trustees, I wish him a well-deserved retirement."
Ian joined the McMichael in April 2017 from Dulwich Picture Gallery where, as Director, he curated the record-breaking 2011 exhibition Painting Canada: Tom Thomson and the Group of Seven. During his time at the McMichael, he curated three popular exhibitions from the permanent collection: Director's Cut, 'A Like Vision': The Group of Seven at 100, and currently, Conversations: Masterworks from the Collection. With Chief Curator Sarah Milroy, he also curated critically acclaimed exhibitions on David Milne and Lionel LeMoine FitzGerald. His final exhibition for the institution, Tom Thomson: North Star, is on view at the McMichael through January 2024.
Ian has charted a course of curatorial rigour, expansion, and partnership, raising the McMichael's national and international profile and steering the gallery through the challenges of the COVID-19 pandemic, in particular with his inimitable at-home videos that were popular with virtual audiences. Under his directorship, the gallery has dramatically expanded its publications and touring exhibitions program, fostered pacesetting educational programs and outreach, and initiated a comprehensive landscape plan that included the planting of the Indigenous-led Minokamik Garden.
An internationally recognized curator, art historian, exhibition curator and museum director, Ian led the Dulwich Picture Gallery in London, UK, for 12 years as Director. Before that, he was Curator of its renowned collection of Old Master paintings. His career began at the Royal Academy of Arts, London and progressed to Curator for English Heritage's London properties – including the Iveagh Bequest, Kenwood, another storied Old Master collection. He holds a postgraduate diploma in Art Gallery and Museum Studies from Manchester University and a MA (Hons) in History of Art from the University of Edinburgh.
"I feel I have lived a charmed life as a museum professional, working for some wonderful institutions and with outstanding collections," said Dejardin. "Exhibition programming has been a continuous thread through my career, and it was one exhibition in particular, Painting Canada from 2011 at Dulwich, which set in motion the steps that led me finally to the magnificent McMichael. I consider it a profoundly fortunate privilege to have ended my career in a way that I could not have foreseen – with a thrilling Canadian adventure as an enthusiastic champion of the art of Canada."
Throughout his time at the McMichael, Ian has worked closely with long-time collaborator Sarah Milroy, Chief Curator since 2018, on a series of wide-ranging curatorial projects. Sarah and Ian have co-curated a number of internationally significant exhibitions, including Emily Carr: From the Forest to the Sea (2014), Vanessa Bell (2017), David Milne: Modern Painting (2018), and Into the Light: Lionel LeMoine FitzGerald (2019).
Today, the McMichael is very pleased to announce that Sarah Milroy will take on the position of Executive Director and Chief Curator in November 2023. "I'll forever be grateful to Ian for making me a part of the McMichael family," said Milroy. "I look forward to the work ahead as we move to fulfill the promise of this great institution."
"The McMichael Canadian Art Collection is a world-class museum – a cultural icon that celebrates the
beauty and diversity of the Canadian experience. The careful guidance and leadership of Ian Dejardin has played a major role in its growth," said Neil Lumsden, Minister of Tourism, Culture and Sport. "As he departs for his well-earned retirement, I thank him for his tireless work in making art widely accessible and available. I would also like to welcome Sarah Milroy as the new Executive Director and Chief Curator. I am confident her passion and expertise will continue to create great opportunities for visitors of all ages."
Sarah Milroy is a Member of the Order of Canada and is nationally recognised as one of Canadian art's most dynamic and charismatic champions. "Sarah possesses the drive and vision to continue the McMichael's trajectory," said Pringle. "She is a beloved mentor and a tireless advocate for Canadian art and artists who has expanded the McMichael's curatorial reach and collaboration across the country. With her depth of knowledge and experience, we are delighted that she has agreed to step into this role to continue the important work that is underway."
Ces informations sont aussi disponible en français. 
ABOUT THE MCMICHAEL CANADIAN ART COLLECTION 
The McMichael Canadian Art Collection is an agency of the Government of Ontario and acknowledges the support of the Ministry of Tourism, Culture and Sport, and the McMichael Canadian Art Foundation. It is the only major museum in the country devoted exclusively to Canadian art. In addition to touring exhibitions, the McMichael houses a permanent collection of more than 7,000 works by historic and contemporary Canadian artists, including Tom Thomson, the Group of Seven and their contemporaries, Indigenous artists and artists from the many diasporic communities. The Gallery is located on 100 acres of forested landscape and hiking trails at 10365 Islington Avenue, Kleinburg, north of Major Mackenzie Drive in the City of Vaughan. For more information, please visit mcmichael.com.
MEDIA CONTACTS
Sam Cheung
Media Relations and Communications Associate
McMichael Canadian Art Collection
905.893.1121 ext. 2210
scheung@mcmichael.com
Grace Johnstone
Director, Communications, Marketing and Sales
McMichael Canadian Art Collection
905-893-1121 x2265
gjohnstone@mcmichael.com