VIRTUAL PROGRAMS
1 HOUR
Fee: $6 per student
These virtual programs, led by a McMichael Educator, guide students through the process of looking at, analyzing, and interpreting artworks featured in the Gallery's permanent collection. Each virtual engagement includes interactive activities that encourage students to practice critical thinking, while gaining an understanding of different styles of art and how they are created.
The McMichael recommends the use of the Zoom video conferencing platform for our virtual programs. Each program runs on our professional level Zoom account, and educators will be provided with a private link to access their chosen content. If your school board prefers a different platform, please be sure to reference your preference during your booking. Our Creative Learning department would be pleased to adapt the program to your platform of choice.
---
NEW! THROUGH THE WINDOW
GRADES JK – 3
Young learners will love exploring the view from an artist's window through a variety of artworks in the McMichael collection. While interactive activities promote investigation into the elements of design, such as colour, line, and shape, collaborative storytelling will engage students' literacy skills. A final artmaking activity will encourage students' creative response and expression.
Curriculum Connections: KP, VA, L
---
STYLE EXPLORATION:  THE GROUP OF SEVEN
GRADES 4 – 8
Explore some of the Group of Seven's iconic works from the McMichael's collection during this guided viewing program. Group activities encourage students to learn to identify the elements and principles of art, while discovering the personal style of each member of the Group of Seven.
Curriculum Connections: VA, L, SS
---
SPECIAL EXHIBITION TOUR!
UNINVITED: CANADIAN WOMEN ARTISTS IN THE MODERN MOMENT  
GRADES 7 – 12
Introduce your students to a little-explored, but important aspect of Canadian art history with this new virtual tour. Uninvited: Canadian Women Artist in the Modern Moment is a major exhibition of Canadian women artists that coincides with, and offers commentary on, the centenary celebration of the Group of Seven. The special exhibition encourages students to explore more than 200 pieces of art by a generation of extraordinary women painters, photographers, weavers, beadworkers and sculptors—pioneers who opened new frontiers for women artists in Canada during a time of dramatic change.
Curriculum Connections: VA, SS, CWS, FNMI
---
SPECIAL EXHIBITION TOUR!
DENYSE THOMASOS: ODYSSEY  
GRADES 7 – 12
In this s
pecial virtual exhibition tour, Denyse Thomasos: Odyssey, students will explore a body of work that recalls the history of the African diaspora and blurs the line between representation and abstraction. With a painterly approach, Trinidadian-Canadian artist Denyse Thomasos explored the structures that confine and define us—whether political, social or architectural—while calling on her extensive travel experiences and understanding of human behaviour to imbue her work with limitless energy. Students will virtually engage in discussion about Thomasos' unique place in the history of Canadian art, adding to a narrative from which Black, Indigenous, and people of colour's voices have for too long been excluded.
* Offered until October 24, 2021 *
Curriculum Connections: VA, SS, CWS
---
STYLE EXPLORATIONS: NORVAL MORRISSEAU AND OTHER ANISHINAABE ARTISTS  
GRADES 1– 3, 4 – 8
Explore the artworks of Norval Morrisseau and other artists working in the unique style of the Anishinaabe School of Painting during this interactive, guided viewing program. Students will engage in activities to discover how Morrisseau employs the elements and principles of design and how his distinct style has influenced other artists, such as Carl Ray and Blake Debassige.
Curriculum Connections: VA, L, SS
---
NOW VIRTUAL! STORIES OF OUR LAND
GRADES 1 – 3, 4 – 6
Through storytelling and a guided viewing of artwork, students will discover the multicultural mosaic of Canadian art and explore the importance of traditions, along with one's geographical environment, in the shaping of identity. Hands-on activities will be used to further engage students in younger grades.
Curriculum Connections: VA, SS
---
NOW VIRTUAL! STORIES FROM CANADA
GRADES 7 – 8, 9 – 12
Using the McMichael's rich and diverse art holdings, students will explore art as an expression of personal experience and examine various cultural narratives of the past and present. Artworks exploring the legacy of colonialism in Canada, such as the residential school system, slavery and industrialization will be among the topics discussed. Stories of resiliency, honouring pride, identity and connection will encourage students to examine their own experiences, personal gifts and community, contributing to a newfound sense of belonging and reconciliation.
Curriculum Connections: VA, SS, CWS, FNMI
---
INDIGENOUS ART AT THE McMICHAEL  
GRADES 9 – 12
This virtual overview of Indigenous art at the McMichael, including iconic works from past and current exhibitions, will highlight the cultural and stylistic diversity of Indigenous artists, while addressing the common challenges experienced by their communities, such as Canadian policies of cultural assimilation, the residential school system, and forced displacement. The discussion around the artworks presented, ranging from historical to contemporary, will allow students to gain a deeper understanding of the cultural resilience of Indigenous communities in the face of these challenges, as well as the power of art to advocate for civil and environmental rights.
Curriculum Connections: VA, SS, CWS, FNMI
---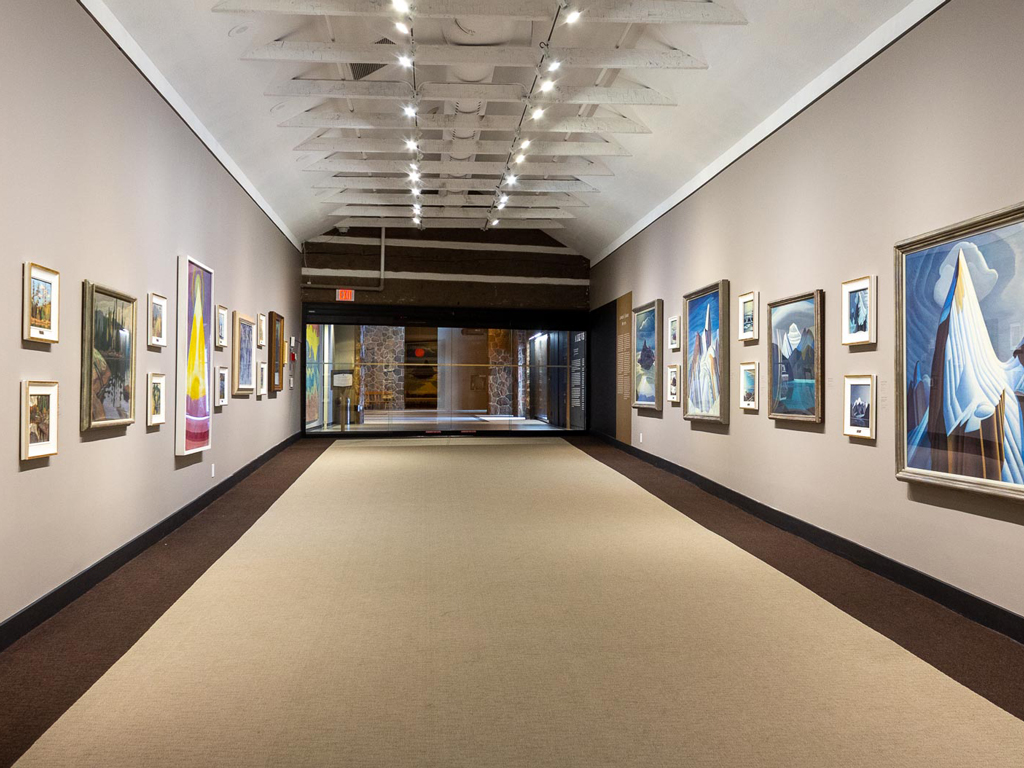 DISCOVERING THE GROUP OF SEVEN: 100 YEARS LATER
GRADES 9 – 12
This interactive virtual experience offers students an opportunity to discover "A Like Vision": The Group of Seven at 100, an exhibition that celebrates the 100th anniversary of the Group of Seven's first exhibition. Combining exhibition installation shots with a viewing of some of the most iconic artworks from the Gallery's permanent collection, this tour will investigate the individual artistic styles of the Group's members, explore the historical and political situation of their time, and reassess the Group's legacy within contemporary Canada.
Curriculum Connections: VA, SS, CWS
---
VIRTUAL ART-IN-ACTION
1-HOUR WORKSHOPS
Fee: $6 per student
These virtual workshops offer students an opportunity to discuss artistic concepts and respond to what they see creatively with artmaking.
---
COLOUR CONCEPTS
GRADES 4 – 8
Students will investigate colour connections virtually throughout an online guided viewing of artworks from the McMichael's collection. They will gain an understanding of colour relationships, such as complementary, monochromatic, and analogous, with an emphasis on the use of colour for expressive purposes. This painting workshop includes a 40-minute artmaking activity, inspired by colour theory, and a final critique.
Curriculum Connection: VA
---
CROSSING-THE-LINE SKETCHING WORKSHOP
GRADES 4 – 8, 9 – 12
Students will virtually explore works of art from the McMichael's collection, along with the function of drawing within various art processes and drawing techniques as a medium. This program will offer a 40-minute drawing workshop, including an introduction to basic drawing techniques and a final critique.
Curriculum Connection: VA
---
VIRTUAL STUDIOS
2-HOUR WORKSHOPS
Fee: $12 per student
Conducted live by a McMichael instructor, these process-oriented studios include an exploration of techniques as students learn tips and tricks for creating their own unique pieces of art. These presentations include detailed looking, pre-recorded videos, as well as live instruction, culminating in a collective art critique. Please note that the McMichael does not provide artmaking materials for the following virtual studios.
Basic materials will be suggested to help accommodate what participants have on hand in the classroom.
---
PAINTING WITH THE GROUP OF SEVEN, LANDSCAPE STUDIO
GRADES 4 – 12
Inspired by the artwork of the Group of Seven, this studio instructs students on how to go from a series of initial sketches to a completed piece of art, all while exploring the Group's modernist take on the landscape genre and comparing it with other approaches. Exploration of location and space will be an important part of this process-oriented studio, as students focus on perspective, focal point, and working with a nature-inspired colour palette.
Curriculum Connections: VA
---
STORYTELLERS & IMAGE-MAKERS ARTMAKING STUDIO
GRADES 4 – 8
Rooted in the visual language of the Anishinaabe School of Painting, this studio focuses on the rich tradition of Indigenous storytelling, highlighting the connection between the natural and spiritual world. Developed in collaboration with Don Chrétien, an Ojibwe artist, designer, and educator, this studio demonstrates how strongly Norval Morrisseau's legacy continues to resonate within the contemporary world.
Curriculum Connections: VA, SS, EE
---
NOW VIRTUAL! MAPPING LANDSCAPES WATERCOLOUR STUDIO
GRADES 7 – 12
Developed in close collaboration with John Hartman—an Ontario-based artist celebrated for his unique layered landscape paintings—this virtual watercolour studio invites students to investigate the notion of a cultural landscape and to create their own personal response to the land, while investigating its geography and history.
Curriculum Connections: VA, CWS
---
"This is really a great introduction for them, learning how to really look at and feel the paintings; to understand how the painters background etc., helps him/her to express what they are feeling at the moment that they are painting and what they want to convey." 
Grade 7/8 Teacher, Annunciation Catholic School. Participated in Virtual Tour: Guided Viewing of the Group of Seven.
THANK YOU TO OUR SPONSORS AND PARTNERS!