NEW!
VIRTUAL TOURS
1 HOUR
Fee: $4 per student
These virtual programs, led by a McMichael Educator, guide students through the process of looking at, analyzing and interpreting artworks featured in the Gallery's permanent collection. Each virtual tour includes interactive activities that encourage students to practice critical thinking while gaining an understanding of different styles of art and how they are created. Each virtual tour is offered through a digital platform of the teacher's choosing, or through the Zoom video conferencing platform if there is no preference.
---
STYLE EXPLORATION:  THE GROUP OF SEVEN
GRADES 4 – 8
Explore some of the Group of Seven's iconic works from the McMichael's collection during this guided viewing program. Group activities encourage students to learn to identify the elements and principles of art while discovering the personal style of each member of the Group of Seven.
Curriculum Connections: VA, L, SS
---
STYLE EXPLORATIONS: NORVAL MORRISSEAU AND OTHER ANISHINAABE ARTISTS  
GRADES 1– 3, 4 – 8
Discover the artists working in the unique style of the Anishinaabe School of Painting. Students will engage in activities to analyze the works of Norval Morrisseau and his influence on other artists such as Carl Ray and Blake Debassige.
Curriculum Connections: VA, L, SS
---
THE ART OF CANADA
GRADES 9 – 12
A virtual tour introducing the McMichael's story and the highlights of its art collections. While the tour will include an overview of various artistic movements and styles, the tour will also encourage a conversation about cultural challenges faced by artists living in Canada, both past and present.
Curriculum Connections: VA, SS, CWS, FNMI
---
INDIGENOUS ART AT THE McMICHAEL  
GRADES 9 – 12
This virtual overview of the Indigenous art on view at the McMichael will highlight the cultural and stylistic diversity of Indigenous artists, while addressing the common challenges experienced by their communities, such as Canadian cultural assimilation policies, residential school practices and forced displacement. The virtual tour will also include works on view as part of the special exhibition Early Days: Indigenous Art at the McMichael while it is on view through May 30, 2021. The discussion around the presented artworks, ranging from historical to contemporary, will allow students to gain a deeper understanding of the cultural resilience of Indigenous communities in the face of these challenges, as well as the power of art to advocate for civil and environmental rights.
Curriculum Connections: VA, SS, CWS, FNMI
---
DISCOVERING THE GROUP OF SEVEN: 100 YEARS LATER
GRADES 9 – 12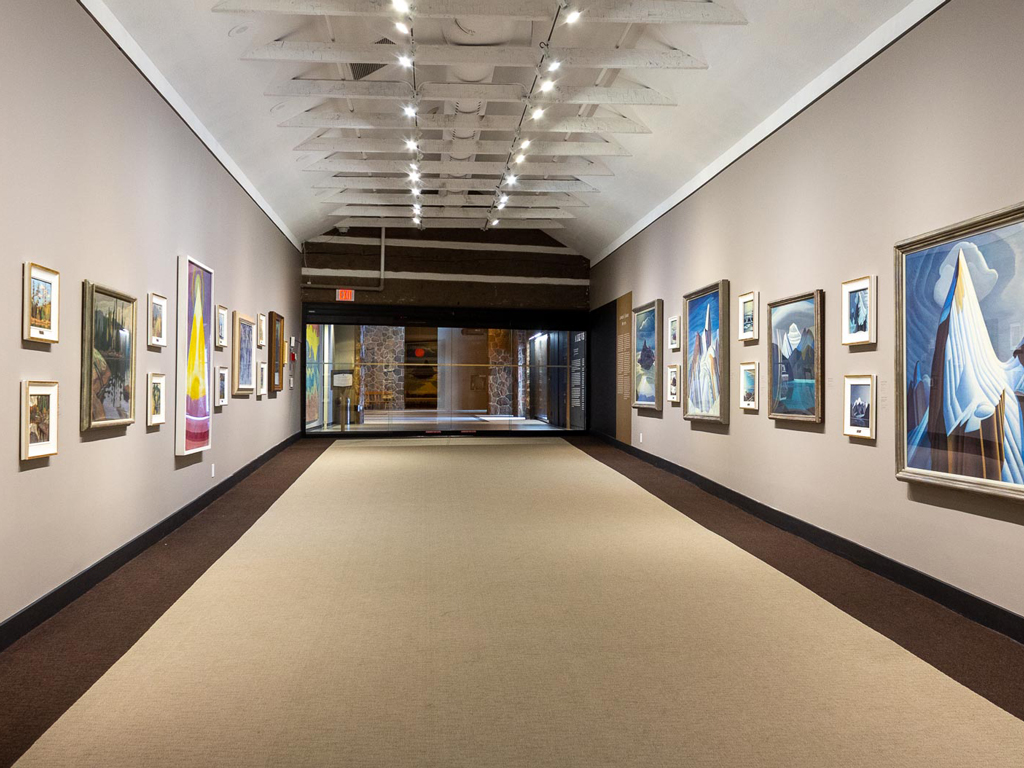 This interactive virtual experience offers to students an opportunity to discover "A Like Vision": The Group of Seven at 100, an exhibition that celebrates the anniversary of the Group of Seven's first exhibition. Combining exhibition installation shots with viewing of some of the most iconic artworks from the gallery's permanent collection, the tour investigates the individual artistic styles of the Group's members, explores the historical and political situation of their time and reassesses the Group's legacy within the contemporary Canada.
Curriculum Connections: VA, SS, CWS
---
UPRISING: THE POWER OF MOTHER EARTH  
GRADES 7 – 12 • Offered October 24, 2020 – April 25, 2021
Introduce your students to the powerful imagery of Métis artist Christi Belcourt in this virtual tour of Uprising: The Power of Mother Earth, the first retrospective of Belcourt's career. Uprising traces the artist's career from its beginnings in the early 1990s to the present, concluding with recent works made collaboratively with Anishinaabe knowledge keeper and emerging visual artist Isaac Murdoch. This virtual experience encourages students to discuss the restoration of balance between living beings and the natural world, reflecting the deep traditions of Indigenous culture.
Curriculum Connections: VA, SS, FNMI, EE
---
VIRTUAL ART-IN-ACTION
1-HOUR WORKSHOPS
Fee: $4 per student
These virtual workshops offer students an opportunity to discuss artistic concepts and respond creatively to what they see with artmaking.
---
VIRTUAL COLOUR CONCEPTS
GRADES 4 – 8
Students will investigate colour connections virtually throughout an online guided viewing experience of artworks from the McMichael collection. They will gain an understanding of colour relationships such as: complimentary, monochromatic and analogous with an emphasis on the use of colour for expressive purposes. This painting workshop includes a 40-minute artmaking activity inspired by colour theory and a final critique.
Curriculum Connection: VA
---
VIRTUAL CROSSING THE LINE SKETCHING WORKSHOP
GRADES 4 – 8, 9 – 12
Students will virtually explore works of art from the McMichael collection along with the function of drawing within various art processes and drawing techniques as a medium. This program will offer a 40-minute drawing workshop including an introduction to basic drawing techniques and a final critique.
Curriculum Connection: VA
---
VIRTUAL STUDIOS
2-HOUR WORKSHOPS
Fee: $8 per student
Conducted live by a McMichael instructor, these process-oriented studios include an exploration of techniques as students learn tips and tricks for creating their own unique pieces of art. These presentations include detailed looking, pre-recorded videos as well as live instruction culminating in a collective art critique. The McMichael does not provide artmaking materials for the following virtual studios.
Basic material choices will be provided to help accommodate what participants have on hand in the classroom.
---
VIRTUAL LANDSCAPE STUDIO
GRADES 4 – 12
Inspired by the artwork of the Group of Seven, this studio instructs students on how to go from a series of initial sketches to a completed piece of art, all while discovering the Group's modernist take on the landscape genre. Exploration of location and space will be an important part of this process-oriented studio as students focus on perspective, focal point and working with a traditional Canadian colour palette.
Curriculum Connections: VA
---
VIRTUAL STUDIO STORYTELLERS/IMAGE-MAKERS
GRADES 4 – 8
Rooted in the visual language of the Anishinaabe School of Painting, this studio focuses on the rich tradition of Indigenous storytelling, highlighting the connection between the natural and spiritual world. Developed in collaboration with Don Chrétien, an Ojibwe artist, designer and educator, this studio demonstrates how strongly Norval Morrisseau's legacy continues to resonate within the contemporary world. The artmaking component of this studio has been adapted from the Art2Go version to work successfully in a virtual setting.
Curriculum Connections: VA, SS, EE
---
"This is really a great introduction for them, learning how to really look at and feel the paintings; to understand how the painters background etc., helps him/her to express what they are feeling at the moment that they are painting and what they want to convey." 
Grade 7/8 Teacher, Annunciation Catholic School. Participated in Virtual Tour: Guided Viewing of the Group of Seven.
THANK YOU TO OUR SPONSORS AND PARTNERS!