ArtVenture Online
The McMichael Canadian Art Collection is temporarily closed to ensure the health and safety of everyone in our broader community. However, there are lots of ways to stay connected with the McMichael collection, educators and artists through art activities, videos, tutorials and more from home! Stay tuned for new posts every week.
Kid's Corner
5 – 7 years old
Visit this page every week for fun step-by-step art activities and ideas for the whole family! Each post will contain an activity connected to one of the McMichael's artworks, accompanied by guided viewing questions. A list of materials and potential substitutes is provided.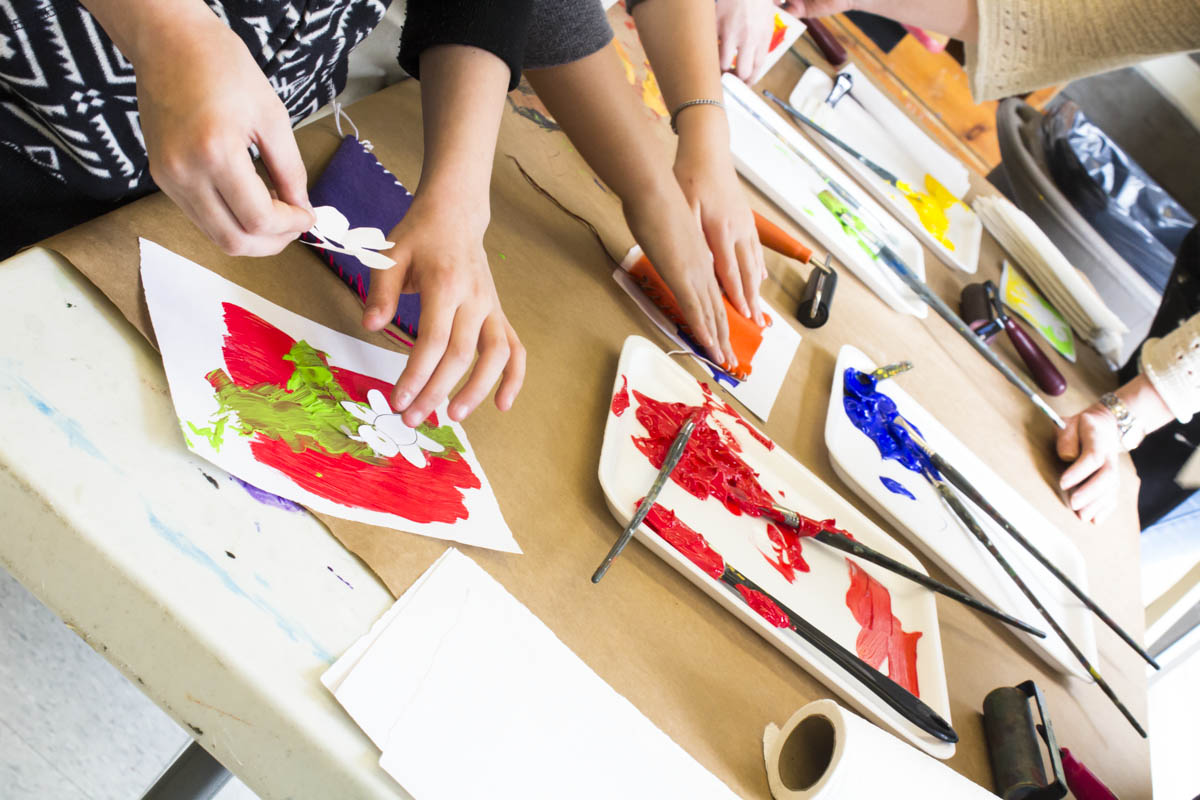 The Canadian landscape can be painted in many different ways.  Some artists paint a panoramic view while others, like Group of Seven member Arthur Lismer, chose to focus on the forest floor as the subject of his artwork Canadian Jungle.  This unique perspective highlights many different textures in nature. Consider planning an exploration of your home and backyard to discover new textures to serve as a subject of an artwork.
Exploration Questions: 
How many natural materials can you spot in this painting?
Do any of these materials have different textures?
How many colours has Arthur Lismer used in this artwork?
Activity description:
Use wax crayons to create a texture drawing by laying paper over natural objects found around your home. Use your imagination to be creative and pick various items in your environment to create interesting textures, including leaves, pine needles, pebbles or loose change. Experiment by adding watercolour paint over top of your rubbings and see what happens!
Tom Thomson loved to explore the outdoors and record his discoveries. He would paint and sketch everything he saw: flowers, trees and even clouds, making a quick painting before the sky changed.
Channel your inner Tom Thomson and look up to the sky. What do you see in the clouds? Can you spot any shapes or forms? Draw inspiration from Thomson's painting Summer Day and create your own sky of clouds.
Exploration Questions: 
How many different colours do you see in the clouds?
Are all the clouds the same size?
What kinds of lines and shapes can you see in the clouds?
Activity description:
Use your imagination to create a mixed media artwork inspired by all the shapes you can find in the clouds.  Like Tom Thomson paint a sky, then draw or trace objects to create the clouds; fill in the objects with cotton balls and watch it come to life!
Historic Canadian artists, such as the iconic Group of Seven, loved hiking outdoors and becoming inspired by trees and forests. At the McMichael Canadian Art Collection, there are many of wonderful examples of artworks inspired by the landscape, including unique representations of trees such as A.J. Casson's White Pine, which could be considered a portrait of a tree.  
Look carefully at Casson's painting below and create your own tree!
Exploration Questions: 
Where is the tree located in the painting? Is it to the side or in the middle?
What do you see behind the tree?
What do you see in front of the tree?
Activity description:
Look out your window and find your favourite tree. Draw the outline of the tree and make it pop by adding interesting shapes and textures with plasticine. Follow the easy steps below to complete the project and use your imagination to make it unique.
Gallery Explorers
8 – 12 years old
Gallery Explorers introduces kids to the history of Canadian art and encourages personal artmaking at home. With new projects added each week, learn the story of well-known Canadian masterpieces as well as some lesser-known surprises by the Group of Seven, Tom Thomson, Norval Morrisseau and other Canadian artists from the past to the present. Each discussion is accompanied by an art activity related to the artist or artwork.
"Nulla dies sine linea" – No day without a line 
For the Group of Seven artist Arthur Lismer, sketching was a way of life. He was a skilled draughtsman, an individual who creates detailed drawings.
Lismer often drew in his sketchbook, on table napkins, on pieces of newspaper, and anything else he could find. He developed this habit at a young age, when he was apprenticing with Sheffield's Independent local newspaper as a black & white news illustrator.
The McMichael's permanent collection includes a number of Lismer's "cartoons" that offer a delightful record of his family life, meetings with friends, travels and scenes that he encountered on the streets of Toronto.
Follow Arthur Lismer's lead and create your own sketchbook to make daily drawing a part of your life!
---
Gallery Stop
Tom Thomson had two passions in life: fishing and painting. He combined his two hobbies by bringing his painting boards on his outdoor adventures. Thomson was always after a big fish and the best views to paint.
The McMichael is home to one of the most extensive collections of Tom Thomson sketches in the world. Thomson produced these tiny sketches during his wilderness excursions, and used them to create larger paintings back at his studio in Toronto.
Today, we're going to explore the concept of painting en plein air and become Tom Thomson for a day!
---
Gallery Stop
Artist Norval Morrisseau took inspiration from the spiritual heritage of his Anishinaabe community and saw all beings as irrevocably connected.
In his mind, humans, plants, animals and inanimate objects are unified by a flow of spiritual energy. In his paintings, this flow is represented by a black line that runs through the composition and interlocks shapes and colours into a single vision of the world.
Can you try to see the world around you through Morrisseau's eyes?
---
Gallery Stop
Living with Art Accessible Programming
Age 7+
The McMichael Canadian Art Collection has always been a leader in accessible programming. To support families during our closure, the McMichael is pleased to offer a series of activities that can be enjoyed by families of children living with exceptionalities. Each activity includes step–by–step instructions that take into account various levels of ability, differing sensitivities and materials available at home.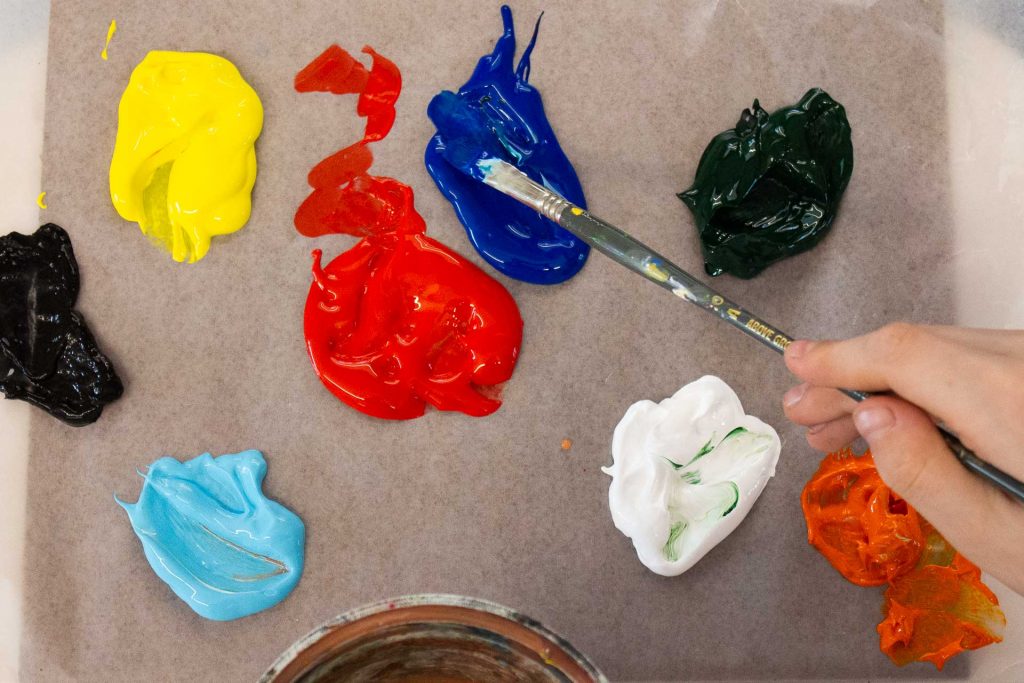 Create a fuzzy flower to decorate your personal space with, or as a gift to someone special. These flowers will be sure to brighten anyone's day!  
Allow your imagination to run wild as you create a beautiful artwork scratched into a colourful underdrawing. The possibilities are endless!  
Create a multi-media painting inspired by the textures and patterns of leaves. We'll challenge you to create a memorable representation of leaves before they disappeared for the winter!      
Young at Art Picture Gallery
Love what you made? Post your work on social media and use the hashtag #McMichaelFromHome for a chance to have your work featured here!
McMichael Gallery's Art Venture Online providing excellent resources for parents to explore nature (from the backyard or balcony) and their child's creative sensibilities! Definitely check out their step by step lessons! #McMichaelFromHome pic.twitter.com/JiPHd6A5ea

— Kathryn Martin (@kmart125) March 25, 2020
Header image credit, clockwise from top left: Edwin Holgate, The Head, 1938, Gift of Edwin and Frances Holgate, 1976; F.H. Varley, Early Morning, Sphinx Mountain, c. 1928, Purchase 1972; A.Y. Jackson, Lake Superior Country (detail), 1924, Gift of Mr. S. Walter Stewart; Frank Johnston, Algoma (detail), 1918, Gift of Mr. and Mrs. John A. Jackson; Arthur Lismer, From My Window, Montreal, 1940–1949, Purchase 1986; Franklin Carmichael, October Gold, 1922, Gift of the Founders, Robert and Signe McMichael; Edwin Holgate, Portrait of Frances, c. 1935, Purchase 1982; J.E.H. MacDonald, Woodland Brook, Algoma (detail), 1918, Gift of the Founders, Robert and Signe McMichael; A.Y. Jackson, Indian Home, Port Essington, B.C., 1926, Gift of Mr. S. Walter Stewart; J.E.H. MacDonald, Moose Lake, Algoma (detail), 1920, Gift of Mr. R.A. Laidlaw; J.E.H. MacDonald, Beaver Dam and Birches (detail), c. 1919, Gift of the Founders, Robert and Signe McMichael; A.J. Casson, October, North Shore (detail), 1929, Purchase 1985. All works McMichael Canadian Art Collection.