Contemporary Landscape Painting with John Leonard
(5-day workshop)
---
Monday, September 13 to Friday, September 17
---
10 am to 4:30 pm
---
Level: Advanced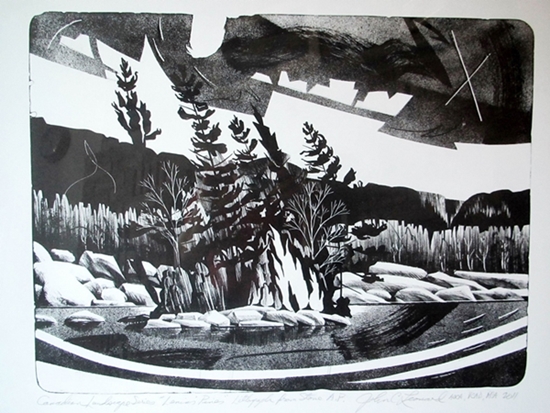 About the workshop
This five-day workshop will assist participants in developing a personal voice when painting the land through observation and analysis. Your instructor will provide solid technical instruction based on painting demonstrations and in-gallery discussions on the Group of Seven's landscapes. Participants will interpret landscape through relevant principles of design and then reconstruct it in paint using individual styles and techniques. This is an incredible opportunity for advanced artists to learn from a renowned instructor and develop a strong appreciation and understanding for art theory and specialized practice.
Workshop details
In-Person Adult Studio Workshop at the McMichael
Dates: Monday, September 13, Tuesday, September 14, Wednesday, September 15, Thursday, September 16 and Friday, September 17, 2021
Time: 10 am to 4:30 pm
Level: Advanced. This workshop is not suitable for beginners.
Number of Participants: 15
Materials: Not included. Oil paint not permitted. View a list of suggested materials. Please bring research material, sketches, or photographs to be used as a base for the work completed in class.
.
The safety and health of our participants and staff remain our top priority
We have implemented a number of new measures to ensure the health and safety of every participant enrolled in our adult workshops and classes. Participants will be seated at separate tables. Our staff have created seating arrangements to allow participants to sit at least two metres away from each other. During the program, instructors will ensure that all participants practice social distancing. Participants and staff are required to wear face masks at all times in accordance with York Region public health guidelines, and each learning space will be equipped with hand sanitation stations and a sink for thorough hand washing.
About the instructor
John Leonard, a Toronto-based painter, is a member of the Royal Canadian Academy, and has taught extensively at many of Ontario's universities and art schools, including OCADU, the University of Toronto and York University. He is currently a faculty member of Fleming College's Haliburton School of Art + Design. An internationally exhibiting artist who has mounted more than 350 exhibitions, and experienced professional, Leonard places great emphasis on the development of personal style, and inspires young artists with his teachings on contemporary landscape painting, Impressionism, painting from a model, and the theory and technique of the Group of Seven.
John Leonard's work is held in more than 40 public galleries and corporate collections, including the National Gallery, the Ontario Arts Council, the Ministry of Culture and Recreation, the Art Gallery of Algoma, the Art Gallery of Sarnia, the Art Gallery of Lindsay, the Station Gallery (Whitby), CBS Records – New York and the Canada Development Corp.