Private Group Tours and Workshops
The McMichael offers a suite of virtual and in-person experiences to inspire your friends, family and colleagues with the art of Canada! Whether you're planning a corporate meeting, birthday party or wine-and-cheese event, add an artistic touch with a paid private guided tour of one of our current exhibitions or have your guests explore their creative side with an in-studio workshop. All tours are led by an experienced McMichael docent. 
Our interactive and inspiring programs will rejuvenate and entertain your group.
Booking Details & Inquiries:
The booking process can be started quickly and easily by completing the Inquiry Form below.  Once submitted, McMichael staff will follow up to confirm all booking details.
Virtual Adults Group Tours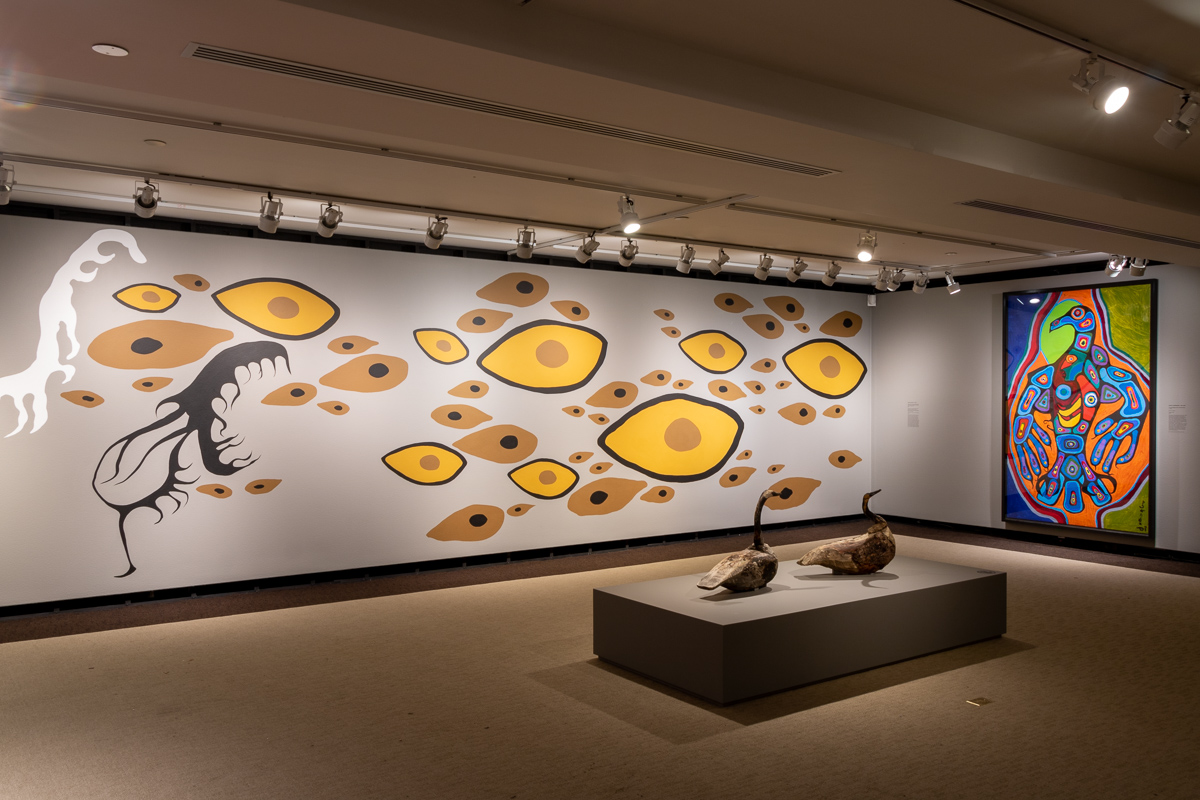 Indigenous Art at the McMichael
This virtual overview of Indigenous art at the McMichael, including iconic works from past and current exhibitions, will highlight the cultural and stylistic diversity of Indigenous artists, while addressing the common challenges experienced by their communities, such as Canadian policies of cultural assimilation, the residential school system and forced displacement.
Conversations: Masterworks from the Collection
Enjoy this virtual guided tour of our permanent collection on display. Executive Director Ian Dejardin selected works for this exhibition with an aim to convey something of the collections current breadth, taking particular pleasure in placing apparently disparate works in creative conversation with one another.
Private In-Person Group Visits
Bring your group to experience the spirit of Canada at the McMichael. We will be thrilled to plan a day that meets your group's interests, providing a unique art-viewing experience in a natural setting. Choose a tour of the permanent collection or special exhibitions, enjoy an art workshop or a presentation. Customized itineraries with specially tailored workshops can be arranged for groups of 10 or more.
In-Person Adult Gallery Tours
Introduction to the McMichael Tours
Discover what's new at the McMichael with one of the following in-person tours. Each tour provides an overview of artworks, great for guests new to the gallery and for frequent visitors wanting to revisit their favourite artists and artworks.
McMichael Highlights
This in-person engagement of the permanent collection focuses on the most important aspects of the McMichael's art of Canada collection, such as the paintings of Group of Seven and their contemporaries, modern Inuit, and Indigenous art, as well as more recent contemporary artistic movements.
Art of Canada: Discovery Tour
Designed for English language learners, this in-person guided tour engages guests in gentle conversation about the art of Canada. Guests will enjoy the opportunity to practice vocabulary in a gallery setting while learning about artworks in the McMichael collection. 
Special Exhibition Tours 
Looking for a tour on a specific artist? Choose from the following special exhibitions to create a customized tour suited to the interest of your group:
In-Person Adult Art Workshops
Watercolour Painting Studio
Explore the medium of watercolour paint with a McMichael instructor who will guide your group through techniques, tips and tricks to create their own unique artwork. Choose from the following themes to focus artmaking on specific genre or painting skill: seasonal landscape painting, still life or colour theory. 
Acrylic Painting Studio
Follow along with a McMichael Instructor as they guide your group through the steps of making a creative acrylic painting. Painting techniques and methods will be put into practice with the creation of your own artwork. Choose from the following themes to guide your artmaking: explore the genre of landscape painting, try your hand at a still life, or dive deeper into colour exploration by focusing on colour theory. 
Oil Pastel Studio
Engage with the versatile medium of oil pastels with an experienced McMichael Instructor to create your own artwork inspired by your choice of theme. Explore how oil pastels can transform a still life, express a seasonal landscape, or help develop your sense of colour theory with this creative and expressive medium. 
Art & Nature Meditation Workshop
This unique stress-relieving outdoor/indoor workshop is inspired by the Japanese tradition of shinrin yoku (forest bathing). The workshop begins with a silent meditation walk on the McMichael's grounds, combined with en plein air sketching activities. Back in the studio, participants will reflect on their outdoor experience by using their preliminary sketch to create a polished painting during an instructor-led watercolour workshop. 
In Person Adult Outdoor Programs

Outdoor Discovery Tour
This accessible stroll will cover several historic landmarks of the McMichael's grounds, such as the original McMichael home, Thomson Shack and Cemetery, as well as outdoor sculptures and art installations. The conversation will revolve around the presence and legacy of various Indigenous communities in the Humber River Valley corridor known as The Carrying Place Trail, and address the cultural and environmental impact of the settler politics. Guests will also explore Signe and Robert McMichael's vision of the grounds surrounding their home from the perspective of their planting and outdoor art strategy. The tour will stop at the newly named Minokamik Garden to introduce a new ecological approach in the cultivation and maintenance of the gallery grounds.

Art & Nature, Well-being Workshop*
Based on a direct interaction with art and nature, this workshop encourages relaxation along with art and nature appreciation. Participants will enjoy a short silent meditation walk/observation on the gallery grounds followed by a discussion circle and an en plein air sketching activity will allow participants to reflect on their observations.
*Please note, this program can be adapted to accommodate any individuals living with cognitive and/or mobility needs.
Picnic Permits
To host a group of 10 or more people on our grounds, you will have to purchase a Picnic Permit.
To start the conversation about how to create the perfect programming according to your group's interests, please contact our Sales Manager, Angela Poletto at 905.893.1121 ext. 2536 or by email. 
Current & Upcoming Exhibitions
Meryl McMaster: Bloodline

The McMichael and Remai Modern are proud to present a survey exhibition of a remarkable Canadian artist whose pioneering large-scale photographic works reflect her mixed Plains Cree/Métis, Dutch and British ancestry. This exhibition looks back to McMaster's past accomplishments and bring us up to date on her current explorations of family histories, in particular those of her Plains Cree female forebears from the Red Pheasant Cree Nation in present day Saskatchewan.
Conversations: Masterworks from the McMichael Canadian Art Collection
This tour leads guests through the Canadian art pantheon in our new exhibition which features diverse works selected from the Gallery's extensive permanent collection. Aimed to convey something of its current breadth and taking particular pleasure in placing apparently disparate works in creative conversation with one another, the tour will explore works from the Group of Seven, Emily Carr, David Milne, Kenoujuak Ashevak, Rebecca Belmore, Edward Burtynsky, Prudence Heward, Gershon Iskowitz, Tom Thomson and others. 
Wolves: The Art of Dempsey Bob
Follow a McMichael Docent through the wonderful new exhibition Wolves: The Art of Dempsey Bob, in this first-ever retrospective of the artist's works.  Discover how Dempsey Bob, leading carver of British Columbia's Northwest Coast, blends traditional narratives and iconography with contemporary influences in this immersive experience of the Tahltan and Tlingit mainland cultures.
Rajni Perera: Futures
On this Docent-led tour, discover the art of Rajni Perera one of Canada's most promising contemporary multimedia artists. Drawing deeply on the artistic traditions of her birthplace, Sri Lanka, as well as Indian miniature painting, medieval armour, and science fiction, Perera has created a body of work that spans feminist and diasporic themes, while contemplating survival in an environmentally degraded future.
William Kurelek: Jewish Life in Canada
This tour explores the work of beloved Ukrainian Canadian painter William Kurelek (1927–1977) and will focus on the McMichael's major new acquisition of Kurelek's suite of 16 paintings entitled Jewish Life in Canada. Painted in the mid-1970s, Kurelek intended the suite as a gesture across the cultural divide, implicitly demonstrating his open-mindedness toward Canadians of cultural and religious backgrounds different from his own. Please note: a tour of the Tom Thomson gallery is available as a 30-minute add-on to the "A Like Vision" tour. 
Early Days: Indigenous Art at the McMichael
Norval Morrisseau, also called Copper Thunderbird, rose to fame in the 1960s when he developed the unique painting style known as the Woodland School. Today this art style is called Anishnaabe painting, a reference to the artist's heritage, and the unique pictographic style influenced many other First Nations artists.