Pastel Workshop
with Margaret Ferraro
---
Wednesday, November 11 to Friday, November 13
---
10 am to 4:30 pm
---
Level: Beginner/Intermediate
About the workshop
In this three-day workshop, master pastelist Margaret Ferraro will introduce participants to colour theory, value, temperature, and application techniques. Participants will learn how each method of application can be used effectively and creatively. Through the use of live demonstrations, Ferraro will illustrate how these concepts relate to landscape, still-life, and other subjects. By the conclusion of the workshop, students will have a thorough understanding of how to set-up and complete an entire pastel painting.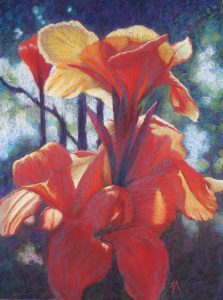 Workshop details
In-person 3-day workshop at the McMichael
Dates: Wednesday, November 11, Thursday, November 12 and Friday, November 13, 2020
Time: 10 am to 4:30 pm
Level: Beginner/Intermediate. Our experienced instructor will adapt their teaching style to the participants' experience. 
Number of Participants: 9
Materials: Not included. View a list of suggested materials.
About the instructor
Renowned Barrie-based artist and teacher Margaret Ferraro has exhibited throughout Canada and the United States. Her accolades include exhibitions with the Pastel Society of America at the National Art Club in New York City and the Pastel Society of Eastern Canada outside Montreal. In 2009, Ferraro published her first book, A Time to Dance, and was named a master pastelist by the Pastel Artists of Canada. In her work, Ferraro moves between landscape, figural and floral subjects, using a layering technique that incorporates a combination of charcoal, ink, acrylic paint and pastels. Colour, value and temperature figure prominently in her compositions, reflecting the pattern of our natural world.
The safety and health of our participants and staff remain our top priority
We have implemented a number of new measures to ensure the health and safety of every participant enrolled in our adult workshops and classes. Participants will be seated at separate tables. Our staff have created seating arrangements to allow participants to sit at least 2 metres away from each other. During the program, instructors will ensure that all participants practice social distancing. Participants and staff are required to wear face masks at all times in accordance with York Region public health guidelines, and each learning space will be equipped with hand sanitation stations and a sink for thorough hand washing.